They often call Kanazawa little Kyoto and it's a lot of history here. There's a big castle and lots of fascinating stuff to see. Kanazawa is also famous for his gold leaf so you'll see a lot of gold leaf things in the city including ice cream cones with gold leaf on top. Here are the top attractions in Kanazawa, Japan.
Kenroku-en Garden
The Kenroku-en Garden used to be part of the gardens of the castle. It's now a public garden and considered one of the three best in Japan. It's a traditional Japanese garden perfect for strolling and perfect for taking pictures. The garden is home to a unique cherry blossom tree, the chrysanthemum cherry blossom tree where each of the chrysanthemums looking blossoms has 300 cherry blossom petals on each one. One of the things to love about Japanese gardens is how lovingly they take care of the plants and trees. On some of the trees, there are more supports than there are branches. You can understand why a lot of these trees need support as some of them have been here since the middle of the 18th century. You can easily spend a couple of hours strolling around Kenroku-en Garden as it's a pretty big area with lots of great places for a picture taking. Even though this is one of the three best gardens in Japan many people consider this one to be the most beautiful.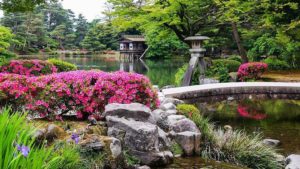 Kanazawa Castle
Directly across from the garden is Kanazawa Castle. Admission to the Kanazawa Castle grounds is actually free but if you want to visit some of the turrets or the storehouses, you will have to pay 310 Yen. It's worth a visit just to come over and see it. It looks pretty cool and well kept but the gardens are really cooler than the castle. The castle grounds are quite huge – they are about four times the size of the garden and there are vast areas of open space which for Japan is actually kind of unusual. So if you just came from Tokyo, this might be a great place to come and relax and get away from stuff. Kanazawa is a bit away from the busyness of everything.
Higashi Chaya District
Kanazawa is the second largest city in Japan to have escaped air-raid bombings in World War two and because of that it's actually quite well preserved. The Higashi Chaya area is famous for its historic tea houses and most of these storefronts used to be tea houses where geishas would perform to entertain their guests. There are still a couple of them that act as operating tea houses and there's a couple that is museums. You can also find a famous gold leaf store selling products with all sorts of Kanazawa's gold leaf. There are two other big districts like this throughout the city and it also looks like the Geisha Street in Kyoto.
Omicho Seafood Market
Kanazawa has vivacious seafood and produce market called Omicho Seafood Market. It's a two-story market that takes up a few city blocks. There are about 200 different vendors, it's very lively in the morning, it's very busy at lunch, and it closes down after about 3 o'clock. So make sure you come here early in your day and you can shop for fresh produce, and fresh fish. There are also some clothing shops and souvenir shops and lots of great restaurants to eat as well.